Let's be honest in most music circles the Rock & Roll hall of Fame has become increasingly able to ridicule. However the Hall has always been destined to be ridiculed, it's concept of inducting only the best Rock musicians its very subjective and does not reflect on what 'Rock' is.
To some Rock is simply the output of musicians such as Buddy Holly, Elvis Presley and Chuck Berry from the mid 50s to the late 50s. To most though Rock encompasses the guitar based rock since 1955. However many will argue that Electronic music, Pop, Blues, Folk, Jazz, Hip-Hop and every genre in between counts as Rock as Rock has influenced every popular genre of today.
The Hall of Fame has ignored large vast genres since its inception, such as Punk, Disco, Progressive Rock, Hip-Hop, Alternative Rock, and so many others. Last year artists who changed music enormously such as The Smiths were not inducted in favour of genre-artists who are favoured by the Hall of Fame such as The Paul Butterfield Blues Band, Joan Jett, Stevie Ray Vaughan and Bill Withers. This is not to say that any of those musicians don't belong in the hall, but they do not belong over artists like Deep Purple, Kraftwerk, Jethro Tull and several others.
Meanwhile deaths or infamous events of legends has also helped cause their inductions in past years, such as Lou Reed, Donna Summer, and several others.
So here is my prediction for who will gain a nomination for this years' Hall of Fame.
Mariah Carey
She may be one of the most chart friendly commercial acts of all time, but that does not stop hjer from standing a chance at being inducted into the Rock and Roll Hall of Fame. Her accomplishments are undeniable, she has sold more than 200 million records, she was the best selling artist of the 90s and she has 18 number 1s in the USA, more than any other solo artist.
However she is distinctly unlike anyone in the Rock & Roll Hall of Fame. The only similar character is Madonna, who gained credit by writing her own songs, which Mariah doesn't. So really the question of her being inducted is unlikely, however one should not rule it out.
If the Hall of Fame ever inducts her then they will be ridiculed for inducting such an artist over so many others, but to not at least recognise her with a nomination is unlikely because her accomplishments speak louder than her music.
Will she be inducted? Maybe
Should she be inducted? No
Deep Purple
My logic behind Deep Purple getting a nomination is that they have slowly been inducting artists who have been the cause of popular outrage, such as Kiss & Rush. Deep Purple have one of the most essential discography's and are crucial listening for any Rock fan.
But why now? Why area they worthy of being inducted now and not later. Well to put it simply they are possibly the hardest act to argue about not inducting. They aren't progressive like The Moody Blues, they aren't based on anything but music like Kiss, they aren't too complex like Rush, they are obvious, great and are the biggest blemish not the Hall, which it will want to fix.
Deep Purple's influence, popularity, and commercial credit however have failed to get them in so far, so their induction is still debatable, only based on the ignorance of the Hall, despite the most famous guitar riff of all time in Smoke on the Water.
Will they be inducted? Yes
Should they be inducted? Yes
N.W.A
N.W.A have been nominated so many times now that it is laughable that they aren't yet in. They are one of the greatest and most obvious Hip-Hop acts of all time, and until Tupac and The Notorious BIG are able to be inducted they are the biggest snubs towards the genre.
I can't see them not being inducted next year, they have classic hits, soundtracked lives of adults now entering their 40s, and were one of the few acts who maintained a sense of revolution during the ever so commercial late 80s. They're induction is not in doubt, however I doubt they will induct another Hip-Hop artist in the same year, one is enough for the Hall of Fame, and this means A Tribe Called Quest, eligible from this year, will not be inducted.
Will they be inducted? Yes
Should they be inducted? Yes
Kraftwerk
It is arguable that their influence was greater than even The Beatles, but I'm not sure I believe that. However they have had a great influence over almost all aspects of chart music since their inception, and are still commercially active and popular to this day.
Their induction would also help diversify the hall, Kraftwerk are not stereotypical rock, they will be the first Krautrock band in the Hall, and will help make the Hall less of a UK/USA music circle jerk and would help open the gap for other European acts who aren't in the Hall, but severely deserve to be.
Despite all this though they are not the sort of act who the Hall are likely to induct. If Chic manage to enter the Hall this year though, I would defiantly put money on Kraftwerk following them in 2017, despite their lack of musical similarity.
Will they be inducted? No
Should they be inducted? Yes
The Smashing Pumpkins
Outside of perhaps Pearl Jam, Nirvana and Radiohead there are no acts who are designated to be in the hall as much as The Smashing Pumpkins, during the mid 90s they were one of the most essential Rock artists even after the suicide of Kurt Cobain and Pearl Jam losing their touch, Billy Corgan has maintain a popular image, which although controversial in some quarters has kept The Smashing Pumpkins at least slightly relevant.
My only issue with them begin inducted would be that they do not deserve to be a first year induct, a nomination is deserved, but beyond that I fail to see how they deserve to be in this year, perhaps they will be inducted due to their perceived links to the younger generations, but the band have not had a great influence and are not as successful as many predicted that would be.
Will they be inducted? Yes
Should they be inducted? Maybe
Ben E King
Ben E King was one of the most well loved and respected musicians of the early 1960s, he had solo hits such as Spanish Harlem and Stand By Me, and is already a member of the Hall of Fame as a member of the Drifters. But he doesn't belong there as a solo artist.
He will be nominated because of his sad death earlier this year, and while this is a tragically sad thing, I do not believe dying suddenly makes people worthy of an induction. If they didn't induct him while he was alive, how does dying suddenly make one relevant. It is one of the greatest flaws in the Rock & Roll Hall of Fame, How they induct artists after their death just like Lou Reed was last year.
Ultimately though he doesn't belong in this year, maybe in the future when other artists are in but not now.
Will he be inducted? Maybe
Should he be inducted? No
Nine Inch Nails
They were nominated last year, so the odds are more in their favour than I would have predicted the year before. I'm not quite believing that they'll get in 2016, but they stand a fairly good chance at begin inducted. They were one of the most influential acts of the 90s and in Trent Reznor they have one of the most respected musicians of their generation.
Hall of Famers support for them will help them out. Johnny Cash's definitive cover of Hurt will help boost the Hall's opinion on them, and David Bowie's respect for Nine Inch Nails may also help them out.
Will they be inducted? Maybe
Should they be inducted? Maybe
Joe Cocker
Joe Cocker was one of the most incredible vocalists of the 60s generation, were the Hall of Fame based on musicianship then he would be in, but it is not, it is instead about music. Joe Cocker has not had the same career as The Beatles, he has not influenced like The Stones and he did not pioneer like Deep Purple.
Joe Cocker does not belong in the Hall of Fame while others greater than he are not in it. I enjoy Joe Cocker but he does not belong in it while contemporaries like The Moody Blues aren't, his induction would be an insult to him, as he would only be inducted based on his death last year.
Will he be inducted? No
Should he be inducted? No
The Smiths
The Smiths are perhaps the greatest British musical act since the Beatles. Yes that was a very controversial statement but it is also my opinion. They were possibly the greatest 80s group, and have influenced almost every Indie act since the 80s. While Indie music may not be necessarily popular in the Hall of Fame it is impossible for The Smiths to continually be snubbed, alongside The Cure they are the biggest snubs of the 80s period, and this continuation can't continue for much longer.
They were nominated last year, so it's looking up for the Manchurians, however this doesn't mean they will be nominated again. Johnny Marr's upcoming autobiography may help sway opinions towards them, and Morrissey's ever public statements may help keep the Smiths relevant, but ultimately their induction depends on their American success, which was not as great as it was in England, this has failed several other acts like The Jam and T.Rex, but hopeful it won't stop The Smiths.
Will they be inducted? Maybe
Should they be inducted? Yes
Willie Nelson
Willie Nelson is one of the most successful country musicians of all time, eh helped create the 'outlaw country' genre, and influenced multiple Rock acts, while being a commercial and public success. If the Hall was dubbed the Music Hall of Fame then Willie would have been in it years ago.
However the hall is a Rock & Roll Hall of Fame, while other country-based performers have got into the Hall of Fame, I don't believe now is the time for Willie to be inducted into the Hall. To do that would enable multiple great country musicians to be inducted, and it would further blur the lines of what is Rock and what is not.
Despite all this though, I wouldn't complain if he is inducted as he is more than worthy.
Will he be inducted? Maybe
Should he be inducted? Maybe
Blur
Blur are on a reunion tour they have a new album out they are at the prime time position for induction, it will crown them relevant in the eyes of rock. However they won't be inducted, they never held the same sort of fame in America as they did the UK and while Oasis will, no doubt, be inducted, I doubt Blur will, definitely not at this time anyway.
They may be inducted in the late 10s nominations but to be honest they don't necessarily deserve to be inducted as a First Time inductee. They still are relevant though, which is there greatest hope of being inducted.
Will they be inducted? No
Should they be inducted? Maybe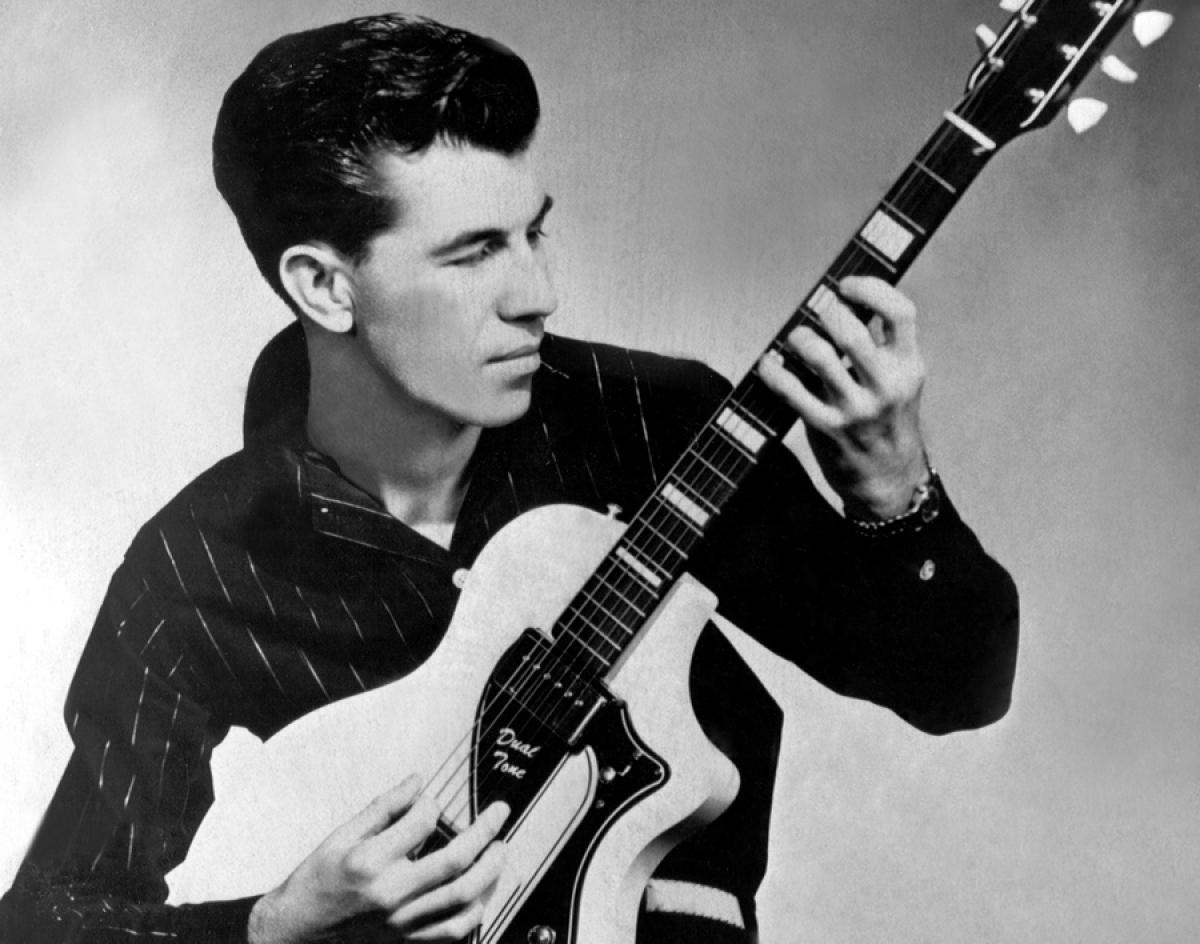 Link Wray
One of the artists who the Hall seem to taunt with induction is Link Wray one of the classic Rock & Roll acts of the 50s, he himself is long dead, which may push the Hall against his induction, as who will turn up to accept the award? However excluding that I think there is a large chance that he will be inducted, due to the Hall's obsession with Rockabilly and the voters' interest in the original acts.
However I don't believe he deserves the induction, he does not have the discography to back it up. Rumble remains his only great single, he may have had other good ones, but none rival Rumble. If you induct him, then Dick Dale should defiantly be in, but I don't see that happening. To be honest my biggest gripe with inducting Link is that he will of entered it before The Johnny Burnette Trio, who deserve the nomination and induction far more than Link, they may have not been commercially successful at the time, but like Link their influence is vast, and The Johnny Burnette Trio have, subjectively, far more influence than Link Wray.
Will he be inducted? Maybe
Should he be inducted? Maybe
Chic
Probably THE disco act. They deserve to be in it solely because of their pioneering nature over the genre. I personally am not a fan of Disco, but to induct Donna Summer and not Chic, well thats a pretty obvious failure by anyone account.
They've been nominated so many times reasonably that it's becoming a trope of their nomination list, I could see them being inducted. It would be positive for the Hall as it would show them as non-Rock Guitar centric, more diversified, and less 60s influenced.
Will they be inducted? Maybe
Should they be inducted? Maybe
Janet Jackson
The Hall has been trying to induct more and more female artists in recent years, and one of the biggest selling and respectable artists of the 80s was Janet Jackson. She has her entrance into the Hall helped by brother Michael and the Jackson 5. So really she should be in for being an innovator of 80s pop, even if that isn't a good thing.
However she has been a popular call out for the past decade or so, so why would they suddenly turn around and induct her now. That is my biggest doubt regarding her entrance, she isn't popular with the Rock and Roll hall of Fame demographic as well.
Will she be inducted? Maybe
Should she be inducted? Maybe
Sting
He's already in the Hall of Fame as a member of The Police, but he has had a commercially successful solo career. Enough to earn a nomination for last years ballot. This was heavily supported by Rock fans, and it would likely be a popular choice by fans who have a less diverse musical taste, and his induction would likely be supported by the Hall due to his status as a music legend.
Touring with Paul Simon recently may have gave him this, although Paul Simon himself deserves induction over Sting.
Will he be inducted? Yes
Should he be inducted? No
So to tally it up my predictions for induction is.
Yes: Deep Purple, N.W.A, The Smashing Pumpkins, Sting
Maybe: Mariah Carey, Ben E King, Nine Inch Nails, The Smiths, Willie Nelson, Link Wray, Chic, Janet Jackson.
No: Kraftwerk, Joe Cocker, Blur.
Artists who should be nominated but won't be:
Sonic Youth: They'll probably have to wait for The Pixies to be inducted before they'll even stand a chance, no-wave music isn't exactly popular and their only chance is through artists who were influenced by them although Thurston Moore is a well liked 80s-Alt Icon so they could get a nomination
Roxy Music: They've probably lost their window of induction, They fitted neatly between Bowie and The Velvet Underground, yet they remain uninducted. I can still see them being inducted in the future, but not too soon. They require a younger voting body who embrace artists who aren't too huge, American and not too linked to the 60s. However Roxy Music does have Bryan Ferry and Brian Eno to help booster support for the band. So I still hope.
Jethro Tull: They will follow a Prog group in the Hall but they won't be in it until after Yes. After that I have no doubt that they will be in it.
New Order: They were one of the most important 80s acts. They're biggest issue is their non-alignment to stereotypical rock and their bigger British popularity. However they may still get in, but not for at least a few more years. Possibly after Joy Division or with them.
Gram Parsons: He's one of the few people who you should be shocked aren't in the Hall, but at the same time it's not too uprising, but he was revolutionary and shocking. His induction should have happened by now, the only reason I'm not anticipating a nomination, is because why would they do that now?
Chicago: They had a great guitarist, were leaders of Soft Rock and played harder rock in their early days. They would appear shoe-ins for induction yet they aren't. I don't see them being inducted now because I see Deep Purple as currently occupying the "duh I should be in" position for this year. But next year they may enter due to that, or it may be Yes.
Judas Priest: The Rock & Roll Hall of Fame seems to be kind of ignorant towards Metal, so while a nomination wouldn't surprise me, an induction would. They stand a chance in the near future for induction, but beyond that I don't see it happening any time too soon.
The Cure: They should have been inducted the moment they became eligible, they have everything that inducted R.E.M in their favour, except they were too adventurous. They're talent for writing pop songs may end up getting them inducted in the future, but their Post-Punk work likely won't. I see The Cure getting inducted soon though, I just don't see them being nominated at the same time as The Smiths though.
Dick Dale: I can see the Hall turning to Surf Rock when the obvious Rock acts have been inducted, but they don't want to help smaller Alt acts. Dick Dale belongs in the hall. I can see him becoming the prominent instrumental candidate if Link Wray is inducted.
Yes: They'll be inducted before 2020 but not until after Deep Purple, then I see them being inducted, 2017 is a distinct possibly. Their pop side may push it in for them. They will help induct Prog groups like Jethro Tull, King Crimson, etc.
The Pixies: Influencing Nirvana may be enough to get them in. But they are still performing and recording so I do see them entering the Hall, however they may have to wait until Pearl Jam are inducted, or other grunge acts, before the Hall looks to Pre-Grunge acts like The Pixies, Sonic Youth and Dinosaur Jr.
T.Rex: T.Rex is probably the act who suffers most due to the American view of the Hall, I can't see them being inducted soon, I just can't not unless the public back them, or Marc Bolan somehow reenters the public view, via an well published documentary.
Big Star: Big Star will be inducted soon enough, they are gaining more and more respect in the Rock world, they play music that the Hall loves, and they are greatly loved by almost everyone. They have the well loved icons Alex Chilton and Chris Bell in the band, so it will happen. However when is the question.
The Moody Blues: They're like Yes, Chicago & Deep Purple. They belong in the Hall as much as The Rolling Stones. They'll get inducted, after Deep Purple at least, but they will be inducted after that, maybe after Yes and Chicago, but it will happen. They have the added 60s advantage, but the voting committee has always been very anti-Moody Blues, hence why I'm not expecting a nomination this time round.
Depeche Mode: They would have appeared shoe-ins for induction a few years ago, but every year that they aren't inducted they seem less likely, with the 90s era now starting they are less likely to be inducted. But I still hope they shall be. If they are it shall likely happen in the next few years. It will either be them or New Order.
Captain Beefheart: I'm fairly sure he won't be inducted now, he once stood a chance in the 90s, or even after his death he could of been. But he wasn't and now unfortunately his only chance for induction is on public or media support or due to his Frank Zappa link.
Soundgarden: They should already have been inducted. I figured they wouldn't be nominated this year in favour of Nine Inch Nails and The Smashing Pumpkins, but I do believe they shall be nominated in a year or so, they may even gain induction soon. They will be inducted, it's more a matter of when.